prepFAST MAX Model
The prepFAST MAX inline dual-stage dilution system fully automates extended range laboratory dilutions while adding syringe loading for samples of small volume or high viscosity. Recommended model for labs requiring extended range sample dilutions for ICP/ICPMS.
Fully Automated Sample Preparation with Inline Dilution
The prepFAST MAX model fully automates laboratory dilutions with both SampleSense vacuum loading and precision syringe loading of samples.
The syringe sample loading is recommended when sample volumes are limited (0.1 - 3 mL) or when samples such as organic solvents, viscous samplers, or biological samples are being analyzed. The prepFAST MAX provides dual-stage autodilutions ranging 1-40,000x with the autocorrecting DXCi autosampler.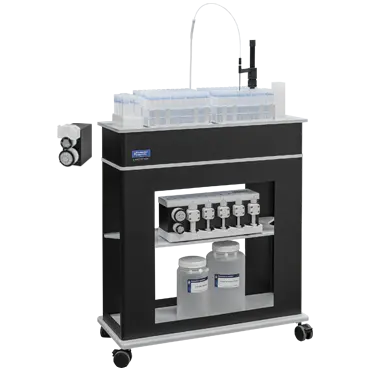 Every ICP/ICPMS performs better with prepFAST MAX
Contact us for information on our prepFAST X Autocalibration System!