prepFAST PPQ – Automated PPQ Metals Determination
The prepFAST PPQ utilizes syringe-driven flows of UPW, semiconductor grade acids, and standard solution to automate both sample dilutions and standard curve generation. It eliminates manual handling of samples to deliver sub-ppt detection limit capabilities in direct analysis mode and sub-ppq detection limit capabilities in concentration mode.
Automation
Automatic external and MSA calibrations
Automated sample sensing

Accounts for viscosity and automatically adjusts timing
Detects and injects the sample and triggers the ICPMS

Automated syringe-driven sample introduction

Sample loading
Sample preparation
Inline dilution
Acid addition (direct mode only)
Ultraclean
Ultraclean sample preparation
Integrated ultraclean sample environment

Includes ultraclean air shower
Options include:

ULPA (Ultrapure air) filter
Sample racks for PFA containers (<1 mL to 500 mL)

Continuously-flowing high purity UPW rinse (user-supplied UPW)
UPW polishing columns for low background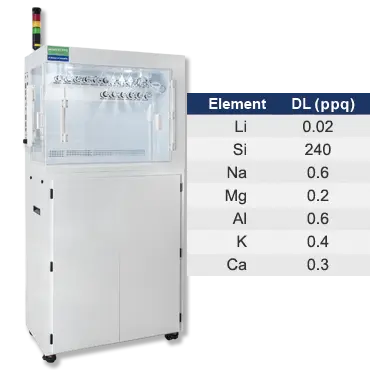 prepFAST PPQ
Contact us for information on our prepFAST PPQ Systems!